Form Decode
About this page
This page gives you information on how to use Form Decode in Personal Homepage Service, MMJP Web Hosting Service, or SSL server.
Overview
Form Decode is a convenient CGI for collecting surveys and comments from users who visit the webpage.
Form Decode can be used by writing in the tags in the page you wish to place the CGI and by transferring(or uploading) the page to the server.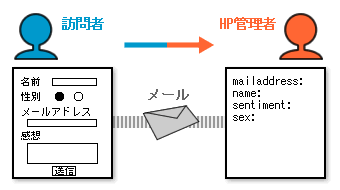 How to use
Basic ways of use
It gives you information on the basic ways of use of the Form Decode.